The Benefits of Powder Coating with AZZ
Powder coating your critical components offers a variety of benefits in terms of performance, long-term cost savings, and more, and AZZ has an expansive network of powder coating facilities ready to help you take advantage.
We have the experience and tools you need to realize those decorative and functional benefits, and that network helps us do it without vast turnaround times you'll experience with smaller operations.
Powder Coating: A More Durable, Protective Option
Powder coating provides: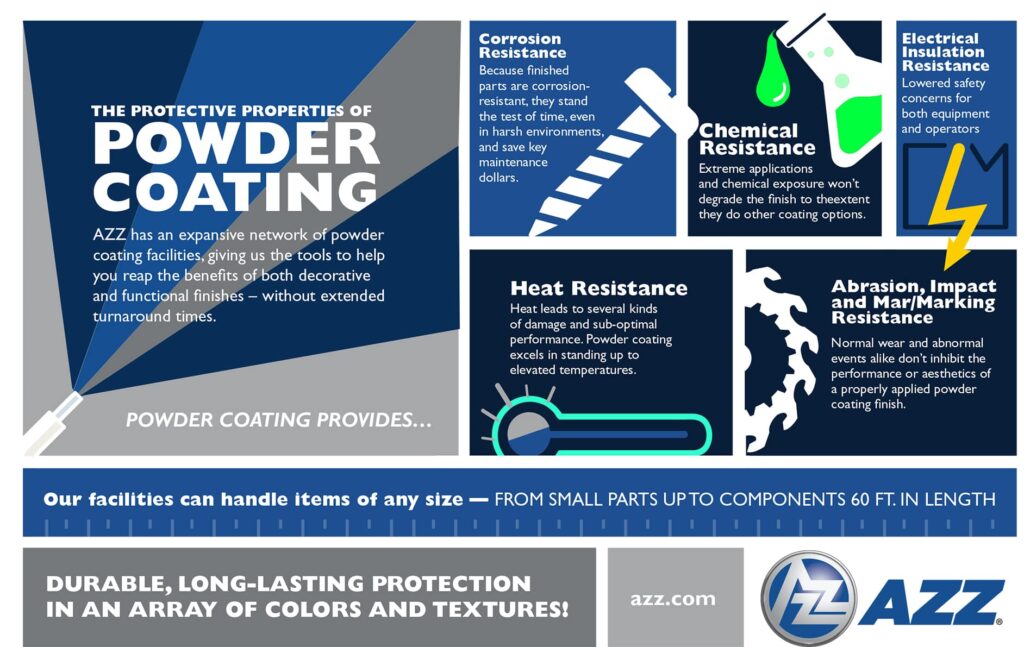 Corrosion Resistance
Chemicals and moisture can eat away at metals like steel, but powder coating provides key resistance against those elements by acting as a barrier that prevents corrosion.


Chemical Resistance
Depending on a finished product's unique application, oils, gasoline, harsh cleansers and much more can come into contact with finished solution. Powder coating helps parts resist the negative effects of these chemicals.


Electrical Insulation Resistance
Powder-coated components can be specifically designed and tested for use on electrical components, helping ensure safety and performance.


Heat Resistance
While in use, coatings can face elevated temperatures either constantly or during intermittent use, and powder coating can help finished products stand up to those harsh environment factors in applications from residential barbecues to automotive engines and beyond.


Abrasion, Impact and Marking/Mar Resistance
Powder coating is known for its durability in the face of forces that would wear it down, cause damage due to significant impact or mark the coating with scratches or other marring. Not only does this maintain the coating's integrity and resistance to other elements – it also helps maintain an attractive finish for longer durations of use.
Powder-coated parts are also attractive, with consistent, quality finishes that stand the test of time and make parts stand out.
AZZ's Flexibility in Powder Coating
AZZ has facilities that can powder coat everything from the smallest parts to parts up to 60 feet in length, offering tremendous flexibility in meeting all of your powder coating needs.
AZZ has also earned the following certifications in heavy equipment, aerospace and defense, and more:
AS9100
Caterpillar
General Dynamics
ISO 9001
NADCAP Quality
PACCAR
We back our versatility and experience with a commitment to a durable, long-lasting and attractive finish. To learn more, visit azz.com/powder-coating .